The Residential Complex (RC)
At ICO, we realize that quality housing is an important part of a productive learning environment. The Residential Complex, or RC, was built in 1995 and remodeled in the summer of 2016, and provides housing for up to 200 students. Located across the street from the College, students appreciate the RC because it's a comfortable, convenient and safe place to live.
​
By choosing the RC, you'll avoid the hassle of locating a place to live, finding a roommate and juggling electric and water bills. We take care of all that for you. As a First Year student, you are guaranteed double-room housing in the RC assuming all required documentation is submitted by the deadline indicated on the RC contract (May 29, 2020). Those requesting ICO housing after the May 29 deadline will be considered based on space availability only. To secure a room in the RC, please complete and submit the online Residential Complex (RC) Contract with the $200 required deposit to the Student Affairs Office. For your convenience, all RC housing contracts are for the 9-month academic year (as opposed to the typical 12-month apartment lease).
The RC is the best place for a new student to study, make friends and adapt to graduate school and Chicago. Many students continue to live in the RC after their first year because they enjoy having the library, dining, study areas, the Illinois Eye Institute and close friends all just a few steps away.
​
Of course, living in the RC is not mandatory, and we have many commuter students. Learn more about other options in our Off-Campus Housing Guide.
​
PAST RC EVENTS:
Each year RC Residents have the opportunity to get to explore the city with their fellow dorm mates while enjoying the many sporting and cultural events the city has to offer. Here is a listing of this years past on-campus and off-campus events: Kayak Architecture Tour, Labor Day BBQ, RC Movie Night, RC Pre-Finals Study Night, Fall Finals Study Breaker, RC Holiday Decorating, Chicago Bulls Basketball game, RC Holiday Party, Shedd Aquarium, trip, Second City Show, Winter Finals Study Breaker, Field Museum trip.
The second and third floors in the RC are composed of three-room suites. Three people live in each suite, featuring a single bedroom, a double bedroom and a large bathroom with a shower, toilet and sink. This unique arrangement provides convenience, comfort, and privacy. Each person is provided with the following furnishings: extra-long twin bed with under-bed storage, bedside lamp, study desk with built-in lighting, large closet, dresser, and nightstand.
All suites include the following services at no additional charge:
High Speed & Wireless Internet Service

Cable Television

All Utilities: Heat, A/C, Water, Sewer
Click images to see floor plans for ICO Suites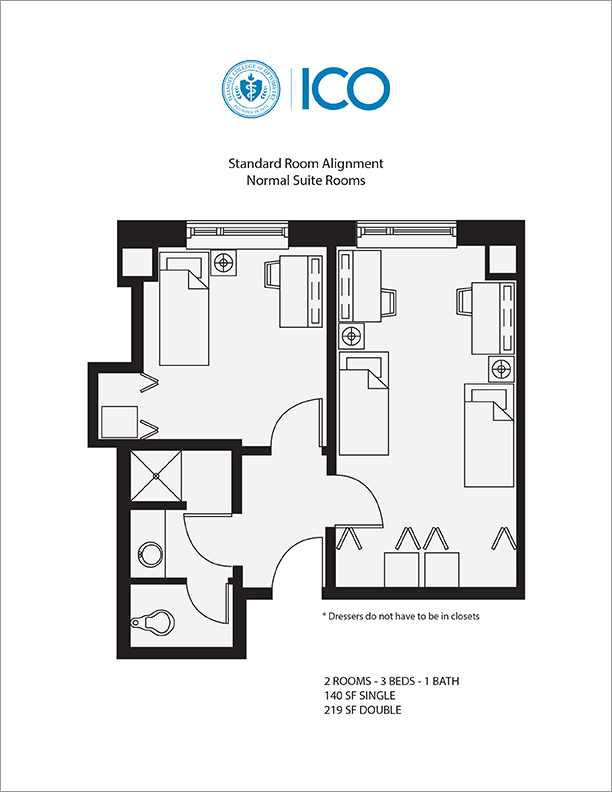 The fourth floor of the RC features one-, two- and three-bedroom apartments, which are assigned based on year of enrollment. Each apartment resident has their own bedroom, featuring the same furnishings as the bedrooms in the suites. In addition, the apartments have a fully furnished living area, as well as a kitchen which includes a stove, microwave, full-size refrigerator, dishwasher, table and chairs or bar with bar stools.
Click images to see floor plans for ICO Suites
Watch A Video About Living at ICO